Preventing Death from Opioid Overdose: Important Facts About Naloxone
Most people are now aware of the burgeoning epidemic of unintentional overdose due to prescription opioids. This has been well-publicized by the national news media (NY Times section
here
; Wall Street Journal feature
here
), and well-known to the public due to several prominent celebrity deaths linked to prescription opioids (for example, Heath Ledger, Michael Jackson, and Philip Seymour Hoffman who reportedly received prescription opioids before transitioning to heroin). Prescription opioids or opioid pain relievers include many familiar medications that are prescribed for pain including oxycodone (Oxycontin), morphine, hydromorphone (Dilaudid), and hydrocodone (Norco, Vicodin).
The following is true about this epidemic (see the CDC page from more details
here
):
Over 22,000 people died from prescription drug overdose in 2010

, and 75% of these involved opioid pain relievers or prescription painkillers
Death from prescription painkiller overdoses have

increased 400% in women

and 265% in men

over a decade (1999-2010)
More people die from opioid pain relievers than from heroin and cocaine combined
Fortunately, there is a medication that reverses opioid overdose called
naloxone
. Naloxone is active at the same receptors as the opioid pain pills, but has the effect of displacing the opioid and reversing its effects. It is a life-saving medicine that has historically been distributed to heroin users as part of community-based harm-prevention programs. In a survey of overdose prevention programs, 48 organizations from 15 states reported a total of 10,171 reversals from 1996-2010 (MMWR Feb 17, 2012). This is an effective and safe medication that clearly saves lives.
Importantly, people that are taking opioid analgesic pills for chronic pain typically do not have access to this life-saving medication, despite the fact that they are at risk for death from these pills. There has been a call to expand access to naloxone for all individuals at risk - including not just individuals with addiction, but chronic pain sufferers taking opioids pills and household members that may be in contact with these pills.
The General Medicine Clinic at San Francisco General is committed to providing access to this essential medication for our patients. We have undertaken a pilot with the Department of Public Health to prescribe naloxone to all persons that may be at risk, including those taking prescription opioid pills for pain relief. We offer
intra-nasal naloxone
to patients and educate them and their caregivers/family about the risk factors for overdose and how to respond to an overdose.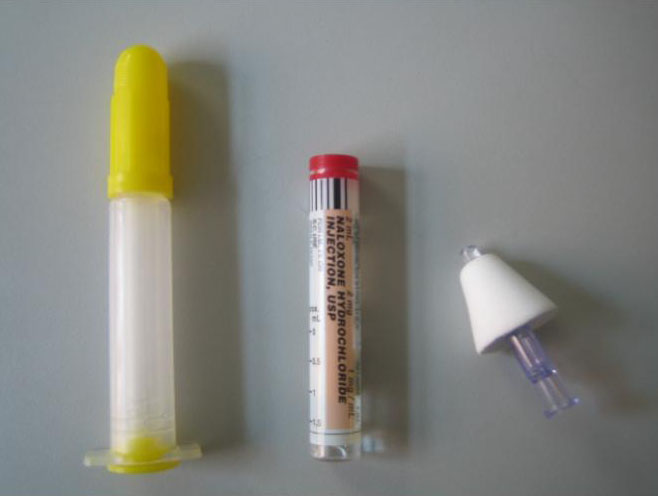 Above is a picture of intra-nasal naloxone. The 2 parts on the left come in a box that is picked up at the pharmacy. The "atomizer" on the right attaches to the medicine and is used to spray the substance into a person's nose. Naloxone is covered by insurance providers for the vast majority of our patients.
Below is an example tutorial of how naloxone is assembled. There are also web-based videos with instructions on how to administer naloxone. Please note that this posting is meant to bring awareness to this issue, and this does NOT represent training for use of this medication.
Recently, the Food and Drug Administration has announced approval of a naloxone pen to expand use of this medication. This new agent, marketed under the trade name Evzio, will actually give automated verbal instructions on its usage, akin to public defibrillators (find more information
here
).
California
is benefited by having recently passed legislation to protect providers that prescribe naloxone (the
Overdose Treatment Act
or
AB 635
described
here
). California also has a
Good Samaritan
law that protects bystanders that administer the medication (
Bystander Law Fact Sheet
here, courtesy of the Drug Policy Alliance). There are only 14 states that currently have Good Samaritan laws to protect bystanders, but many other states have legislative efforts in progress in response to this epidemic.
The exciting news is that there are many things that are happening to address this burgeoning epidemic. Naloxone is one part of this effort, but there are many others including increased education about safe opioid prescribing, use of prescription drug monitoring programs, improved access to addiction treatment, and expanding treatment options for chronic pain. With providers collaborating with public health officials, there are many reasons to be optimistic about an end to this epidemic.