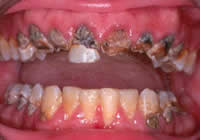 A friend who is a social worker recently informed me that Medi-Cal is reinstating coverage for dental services in the state of California. As a primary care doctor in an urban safety net hospital, all I can say is
"HOORAY!!"
It is not uncommon that I see patients that suffer from dental problems. Just the other day I saw a patient with several rotting teeth causing severe pain and difficulty with eating which caused a 12 pound weight loss over the preceding 3 months. While most people celebrate weight loss, unfortunately for this man, his painful teeth had caused his weight to decrease to a mere 130 pounds, far below the requirement for a 5'10" man. When you tell a patient they need dental work, they say "I know, but how am I supposed to afford it?" It is incredibly frustrating as a primary care doctor to see patients receive treatment for a tooth abscess, but not for the basic dental care that would have prevented the problem in the first place.
The story of dental care for California's Medicaid population is complicated. Beginning in 2009, as a result of budget cuts, the state eliminated most adult dental services, aka Denti-Cal. The California Association of Rural Health Clinics and a community health center in Kings County then sued the Dept of Health Care Services and state officials, contesting that the cuts violated federal law. They won and a court order reinstated coverage in 2010, but then the state received CMS approval to again cut benefits, until the 9th Circuit Court of Appeals finally ruled this
unlawful
in July of 2013, thus requiring reinstatement. In addition, there have been wranglings over payment for Denti-Cal services. Specifically, there was an initiative to decrease reimbursement by 10% and applying this retroactively to any payments since 2011, but the governor's anticipated budget does not include this "clawback" of payments, due in large part to the efforts of the California Dental Association.
The benefits
will now cover the following
:
cleanings;
exams and x-rays;
fluoride treatments
fillings;
prefabricated crowns;
full sets of dentures; and
root canals
The benefits will NOT cover:
partial dentures;
implants; and
gum treatments
The
Denti-Cal
website has several resources, including:
Information for dentists interested in enrolling
A phone line for questions: 1-800-322-6384
While this is a huge gain, this is unlikely to solve the problem of inadequate dental services for the poor. Many dentists do not accept Denti-Cal patients due to the low rates of reimbursement. There are also many patients for whom the damage has already been done. Nonetheless, this is an exciting development for the >3 million adults who have been denied coverage in the past 5 years. I know I will be sharing this information with my patients, and I encourage others to do the same!